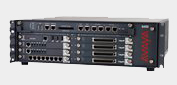 The Avaya G450 Media Gateway provides a scalable, reliable, and secure platform for delivery of Avaya Communication Manager-based IP telephony applications. It is targeted for mid to large sized branch offices, medium sized standalone businesses, or small campus environments. Like other Avaya GX50 series Media Gateways, it can be configured to extend Communication Manager features and applications to branch offices at the edge of the enterprise network. The G450 can also be configured with an S8300 Server blade or a standalone S8500 Server to deliver Communication Manager-based telephony to standalone or small campus environments.
Business Benefits
Robust Resliency features help maintain business continuity
Deployment Flexibility helps lower Total Cost of Ownership through hardware standardization
Scalable, High Capacity Platform provides Investment Protection
Enhanced Serviceability lowers Total Cost of Ownership
Enhanced Security protects Sensitive Information
FEATURES
Robust Resiliency Features
Designed for Deployment Flexibility
Scalability
Enhanced Serviceability
Enhanced Security
Description
The Avaya G450 Media Gateway consists of a 3U high, 19" rack mountable chassis with field-removable Supervisor Main Board Module, Power Supplies, Fan Tray, DSP resources and memory. It has eight Media Module slots that host a combination of interface boards to support T1/E1, ISDN-BRI, WAN interfaces, digital or analog telephones and analog trunks. The first Media Module slot can also host an S8300 Server to provide integrated IP Telephony for standalone businesses or mission-critical survivability for branch office-deployed G450s.
Important G450 capabilities include:
Field-replaceable Main Board Module supports optional DSP and Memory add-ons. Built-in interfaces include two 10/100/1000 Base-T LAN ports, two 10/100 Base-T WAN ports, two USB ports, console and services ports, Contact closure adjunct port, and an ETR port (for emergency calls during power failures)
Modular DSP Resources are available as daughterboards for Main Board Module. These daughterboards can be implemented in 20 or 80 channel increments. The maximum capacity is 240 channels. Codecs supported include G.711, G.729, and G.726.
Robust TDM Capabilities for scalability and deployment flexibility including 240 voice channel capacity, 192 analog or digital (DCP) ports, up to 8 T1/E1s* up to 10,000 Busy Hour Call Completions
High-resiliency features such as dual, redundant, load-sharing power supplies; modular fan tray, standard Local Survivability and Enhanced Local Survivability (with S8300 Server)
Basic routing capabilities including OSPF, RIP, PPP, Frame Relay and VRRP support. Available IP WAN routing media modules add support for PPP/Frame Relay connectivity over E1/T1 or Universal Serial Port (USP) interfaces. The G450 can also connect to an external WAN device via fixed 10/100 Ethernet WAN router ports, which support traffic shaping to match data transfer rates with available WAN bandwidth.
Enhanced Quality of Service including Dynamic Call Admission Control for improved bandwidth utilization and Respond Time Report for better WAN monitoring
Advanced Security including VPN support, SRTP encryption, SSH/SCP, SNMP v3 support, secrets management