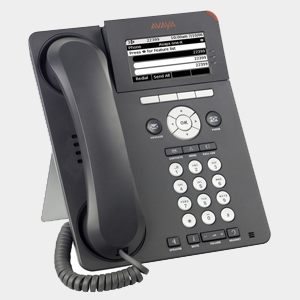 Avaya 9620 L/C Highlights
This phone offers brilliant audio quality, low power requirements, customizability and performance. The phones feature context-sensitive graphical interfaces and large color touchscreens, which deliver increased call control while simplifying the traditional telephone experience. Avaya 9600 Series IP Deskphones help boost productivity while increasing worker satisfaction—turning a business phone system into a competitive advantage.
This model offers robust features like status lights and buttons, and improved audio quality. A Power over Ethernet Class 1 model has very low power consumption.
Avaya 9620 Features:
Backlit display – 3.45" diagonal QVGA quality gray-scale pixel based with adjustable display angle
9620C supports a ¼ VGA color display
Full duplex speaker phone
Ergonomic wideband hearing aid compatible handset supporting TTD acoustic coupler
Two message waiting indicators
Flip-stand/dual position
Wall mount kit available
Four way navigation cluster button
Four contextual softkey buttons
Volume button (separate volume levels in the handset, speaker, and ringer)
Avaya Menu button (browser, options and settings access)
Message button (LED)
Telephony application (hard button)
Mute button (LED)
Speaker button (LED)
Headset button (LED)
Contacts button
Call log button (LED)
Ethernet (10/100) line interface with secondary Ethernet interface
PoE 802.3af compliant class 2 device (auxiliary power available)
9620L is PoE Class 1
Adapter interface (except 9620L)
USB interface – supports USB 1.1 compatible thumb drives for personal contacts (except 9620L)
Headset Interface