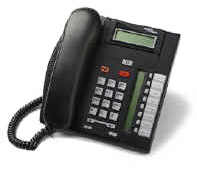 Nortel Norstar T 7208 Basic Speakerphone
The Nortel T7208 basic phone is a cost-effective telephone with limited programmable buttons. It can be programmed up to any combination of eight lines or programmed features.
Why use the T7208 phone?
The Nortel T7208 provides basic functionality. The phone has a one-line Dispay so that caller ID or voicemail message information will be displayed. If you do not have a need to see very many outside lines or use a lot of features, this is the phone for you.